Pages are currently viewing

Home > Undergraduate Schools > List of Medicine > Department of Dermatology
Here is the main content.
Department of Dermatology
Outline
Derma Dream is our department. Department of Dermatology, Wakayama Medical University was founded in 1945. The first chairman was Prof. Nishimura, who had studied the pathogenesis of collagen diseases biochemically. The second chairman was Prof. Mishima, who has been studying the whole world of malignant melanoma. The third chairman was Prof. Aoki and the forth was Prof. Matsunaka. In 1999, Prof. Fukumi Furukawa was elected as the fifth chairman.
Reserch Outline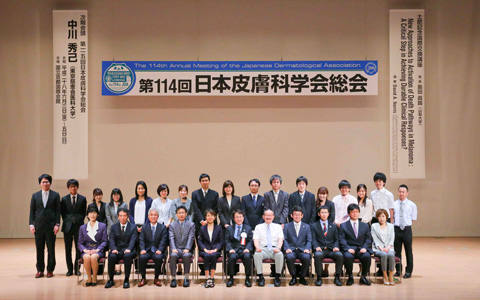 We have held international meetings such as the 2nd International Conference on Cutaneous Lupus Erythematosus (ICCLE) in Kyoto in 2008, the JSID-Asia-Oceania-Forum and the 35th Annual Meeting of the Japanese Society for Investigative Dermatology in Wakayama in 2010, and the International workshop of Hydroxychloroquine on Cutaneous Lupus Erythematosus in 2011, as well as the 23rd Annual Meeting of the Japanese Society of Aesthetic Dermatology in 2005, the 38th Annual Meeting of the Japanese Society for Dermatoallergology and Contact Dermatitis in 2008, the 64th Annual Meeting of the Central Division of Japanese Dermatological Association in 2012, the 29th Annual Meeting of the Japanese Association of Dermatologic Surgery in 2014, and the 114th Annual Meeting of the Japanese Dermatological Association in Yokohama in 2015. These meetings had a great contribution for better understanding of skin autoimmune, autoinflammatory, aesthetic, allergic, and all other skin diseases. Especially, Nobuo Kanazawa and collaborators reported Nakajo-Nishimura syndrome, an autoinflammatory disorder caused by the proteasome assembly defect due to a proteasome subunit beta type 8 (PSMB8) mutation in Proc Natl Acad Sci USA 108:14914-14919, 2011. This "Nishimura" represents the first professor in our department.
Publications
Publication lists from 2007
Books and chapters
Nobuo Kanazawa: Rare Hereditary Autoinflammatory Disorders. Dermatology Research Advances Vol.2, Eds. Yan-Hua Liang, Nova Science Publishers, Inc., New York, pp.3-18, 2015
Chikako Kaminaka, Yuki Yamamoto, Fukumi Furukawa: Actinic keratosis (Chapter 20), Color Atlas of Chemical Peels, 2nd edn. Antonella Tosti (ed), Springer, pp.165-174, 2012
Nobuo Kanazawa: Hereditary autoinflammatory diseases with skin manifestations, The 22nd World Congress of Dermatology Special Book  Asian Skin and Skin Diseases pp.293-297, 2011
Fukumi Furukawa, Il-Hwan Kim: Chemical Peel in Asian Skin: A Review, the 22nd World Congress of Dermatology Special Book Asian Skin and Skin Diseases, pp.499-503, 2011
Fukumi Furukawa, Yuki Yamamoto, Nobuo Kanazawa, Masahiko Muto: Race differences in immunogenetic features and photosensitivity of cutaneous lupus erythematosus from the aspect of Japanese studies. Contemporary Challenges in Autoimmunity, ed by Y Shoenfeld and ME Gershwin, Annals of the New York Academy of Sciences.1173:552-556, 2009
Articles
Yoshimasu T, Furukawa F: Modified immunotherapy for alopecia areata. Autoimmun Rev in press
Shimomatsu T, Kanazawa N, Mikita N, Nakatani Y, Li HJ, Inaba Y, Ikeda T, Kondo T, Furukawa F: The effect of hydroxychloroquine on lupus erythematosus-like skin lesion in MRL/lpr mice. Med Rheumatol in press
Kamio Y, Kanazawa N, Mine Y, Utani A: Intractable leg ulcers in Blau syndrome. J Dermatol in press
Wang Y, Yamamoto Y, Kuninaka Y, Kondo T, Furukawa F: Forensic potential of MMPs and CC chemokines for wound age determination. J Forensic Sci in press
Tamura S, Tamura T, Gima H, Kanazawa N, Relvas L, Cunha E, McMullin MF, Bento C: A Japanese family with congenital erythrocytosis caused by haemoglobin Bethesda. Intern Med 54: 2389-2393, 2015
Maruyama K, Ikeda T, Tanaka K, Furukawa F: Evaluation of arteriosclerosis using the brachial-ankle pulse wave velocity in patients with visceral lesion-free systemic lupus erythematosus characterized by skin lesions. Open Dermatol J 9: 30-33, 2015
Merola JF, Nyberg P, Furukawa F, Goodfield M, Hasegawa M, Marinovic B, Szepietowski J, Dutz J, Werth VP: Redefining cutaneous lupus erythematosus: a proposed international consensus approach and results of a preliminary questionnaire. Lupus Sci Med 2: e000085, 2015
Tamura S, Higuchi K, Tamaki M, Inoue C, Awazawa R, Mitsuk i N, Nakazawa Y, Mishima H, Takahashi K, Kondo O, Imai K, Morio T, Ohara O, Ogi T, Furukawa F, Inoue M, Yoshiura K, Kanazawa N: Novel compound heterozygous DNA ligase IV mutations in an adolescent with a slowly-progressing radiosensitive-severe combined immunodeficiency. Clin Immunol 160: 255-260, 2015
Kato Y, Kanazawa N, Yamamoto T: Pediatric pustular psoriasis with Turner's syndrome. J Dermatol 42: 1208-1209, 2015
Okuhira H, Matsumaka H, Iwahashi Y, Nakamura Y, Furukawa F, Yamamoto Y: Case report of aquagenic wrinkling of the palms associated with impaired stratum corneum function. J Dermatol 42: 913-914, 2015
Kaminaka C, Uede M, Matsunaka H, Furukawa F, Yamamoto Y: Clinical studies of the treatment of facial atrophic acne scars and acne with a bipolar fractional radiofrequency system. J Dermatol 42: 580-587, 2015
Shima T, Yamamoto Y, Ikeda T, Furukawa F: A patient with localized scleroderma successfully treated with etretinate. Case Rep Dermatol 6: 200-206, 2014.
Uede M, Nakamura Y, Yamamoto Y, Furukawa F: No differences in number and distribution of dermal mast cells between acute and chronic cutaneous lupus erythematosus. Autoimmune Dis Ther Approaches 1: 2, 2014
Yoshimasu T, Uede M, Kanazawa N, Mikita N, Yamamoto Y, Ito T, Furukawa F: Involvement of FcεR1α immunopositive cells in alopecia areata with atopic dermatitis and a high titer of serum immunoglobulin E. Eur J Dermatol 24: 500-503, 2014
Yoshimasu T, Kuramoto T, Kaminaka C, Kanazawa N, Yamamoto Y, Furukawa F: Efficacy of 0.1% adapalene in a non-inflammatory Kyoto Rhino Rat acne model. J Dermatol Sci 76: 143-148, 2014
Kaminaka C, Uede M, Nakamura Y, Furukawa F, Yamomoto Y: Histologic studies of facial acne and atrophic acne scars treated with a bipolar fractional radiofrequency system. J Dermatol 41: 435-438, 2014
Ikeda T, Kaminaka C, Yamamoto Y, Furukawa F: Disseminated cryptococcosis-induced skin ulcers in a patient with autoimmune hepatitis. Case Rep Dermatol 6: 98-102, 2014
Enomoto T, Sowa M, Nishimori K, Shimazu S, Yoshida A, Yamada K, Furukawa F, Nakagawa T, Yanagisawa N, Iwabuchi N, Odamaki T, Abe F, Nakayama J, Xiao JZ: Effects of bifidobacterial supplementation to pregnant women and infants in the prevention of allergic development in infants and on fecal microbiota. Allergol Int 63: 575-585, 2014
Inaba Y, Kanazawa N, Furukawa F, Sakurane Y, Nakano H, Sawamura D, Yoneda K, Hamada T, Hashimoto T: Pachyonychia congenita in Japan: report of familial cases with a recurrent KRT16 mutation. Eur J Dermatol 24: 122-123, 2014
Ishiguro M, Hashizume H, Ikeda T, Yamamoto Y, Furukawa F: Evaluation of the quality of life of lupus erythematosus patients with cutaneous lesions in Japan. Lupus 23: 93-101, 2014
Kaminaka C, Uede M, Matsunaka H, Furukawa F, Yamomoto Y: Clinical evaluation of glycolic acid chemical peeling in patients with acne vulgaris: a randomized, double–blind, placebo–controlled, split–face comparative study. Dermatol Surg 40: 314-322, 2014
Yoshimasu T, Furukawa F: Eradication therapy for urticaria with high titers of anti H. pylori IgG antibody. Allergol Int 63: 37-40, 2014
Ikeda K, Kambe N, Takei S, Nakano T, Inoue Y, Tomiita M, Oyake N, Satoh T, Yamatou T, Kubota T, Okafuji I, Kanazawa N, Nishikomori R, Shimojo N, Matsue H, Nakajima H: Ultrasonographic assessment reveals detailed distribution of synovial inflammation in Blau syndrome. Arthritis Res Ther 16: R89, 2014
Omi T, Sato S, Kaminaka C, Yamamoto Y, Kawana S, Naito Z: A histological study on the treatment of acne scars with fractional radiofrequency: preliminary findings. J Clin Exp Dermatol Res 5: 203, 2014
Tchernev G, Cardoso JC, Chokoeva AA, Verma SB, Tana C, Ananiev J, Gulubova M, Philipov S, Kanazawa N, Nenoff P, Lotti T, Wollina U: The "mystery" of cutaneous sarcoidosis: facts and controversies. Int J Immunopathol Pharmacol 27: 321-330, 2014
Kanazawa N, Tchernev G, Wollina U: Autoimmunity versus autoinflammation - friend or foe? Wien Med Wochenschr 164: 274-277, 2014
Tchernev G, Lotti T, Cardoso JC, Kanazawa N, Guarneri C, Wollina U: Cancer, Infection and Disturbances of The Integrity of Tissue Homeostasis: The Most Significant Triggers for Molecular Mimicry and Autoimmunity in Dermatology? Wien Med Wochenschr 164: 245-246, 2014
Kanazawa N, Kunimoto K, Ishii N, Inamo Y, Furukawa F: Is CANDLE the best nomenclature? Br J Dermatol 171: 659-660, 2014
Kanazawa N: Hereditary disorders presenting with urticaria. Immunol Allergy Clin North Am 34: 169-179, 2014
Mizuno M, Asano H, Kameyama K, Furukawa F, Yamamoto Y: In vitro evaluation of the skin sensitizing potential of chemical peeling agents by the human cell line activation test. J Clin Exp Dermatol Res 4: 191, 2013
Kanazawa N, Nakamura T, Mikita N, Furukawa F: A novel IL36RN mutation in a Japanese case of early onset generalized pustular psoriasis. J Dermatol 40: 749-751, 2013
Uede M, Kaminaka C, Yonei N, Furukawa F, Yamamoto Y: Persistent effects of adapalene gel after chemical peeling with glycolic acid in patients with acne vulgaris. Open Dermatol J 7: 42-46, 2013
Takigawa M, Tokura Y, Shimada S, Furukawa F, Noguchi N, Ito T: The Acne Study Group: Clinical and bacteriological evaluation of adapalene 0.1% gel plus nadifloxacin 1% cream versus adapalene 0.1% gel in patients with acne vulgaris. J Dermatol 40: 620-625, 2013
Kunimoto K, Kimura A, Uede K, Okuda M, Aoyagi N, Furukawa F, Kanazawa N: A new infant case of Nakajo-Nishimura syndrome with a genetic mutation in the immunoproteasome subunit: an overlapping entity with JMP and CANDLE syndrome related to PSMB8 mutations. Dermatology 227: 26-30, 2013
Yonei N, Kimura A, Furukawa F: Common blue nevus with satellite lesions needs differential diagnosis with malignant melanoma. Case Rep Dermatol 5:244–247, 2013
Yokogawa N, Tanikawa A, Amagai M, Kato Y, Momose Y, Arai S, Eto H, Ikeda T, Furukawa F: Response to hydroxychloroquine in Japanese patients with lupus-related skin disease using the cutaneous lupus erythematosus disease area and severity index (CLASI). Mod Rheumatol 23: 318-322, 2013
Kanazawa N: Comprehensive review of rare hereditary autoinflammatory disorders. J Genet Disor Genet Rep 2: 2, 2013
Kanazawa N, Tchernev G, Kambe N: Monogenic early-onset sarcoidosis is no longer a variant of "idiopathic" sarcoidosis. J Am Acad Dermatol 69: 164-165, 2013
Tchernev G, Tronnier M, Ananiev J, Taneva T, Patterson JW, Gulubova M, Trafeli JP, Gegova A, Harrell M, Guarneri C, Wollina U, Cardoso JC, Kanazawa N, Zisova L, Forsea AM, Zouboulis CC: Atypical fibroxanthoma-a diagnosis of exclusion! Wien Med Wochenschr 163: 380-386, 2013
Tchernev G, Penev PK, Nenoff P, Zisova LG, Cardoso JC, Taneva T, Ginter-Hanselmayer G, Ananiev J, Gulubova M, Hristova R, Nocheva D, Guarnerio C, Martino G, Kanazawa N: Onychomycosis: modern diagnostic and treatment approaches. Wien Med Wochenschr 163: 1-12, 2013
Nagase H, Nakachi Y, Ishida K, Kiniwa M, Takeuchi S, Katayama I, Matsumoto Y, Furukawa F, Morizane S, Kaneko S, Tokura Y, Takenaka M, Hatano Y, Miyachi Y: IL-4 and IL-12 Polymorphisms are associated with response to suplatast tosilate, a Th2 cytokine inhibitor, in patients with atopic dermatitis. Open Dermatol J 6: 42-50, 2012
Toyozawa S, Kaminaka C, Furukawa F, Nakamura Y, Matsunaka H, Yamamoto Y: Chemokine receptor CXCR4 is a novel marker for the progression of cutaneous malignant melanomas. Acta Histochem Cytochem 45:293-299, 2012
Li HJ, Kanazawa N, Kimura A, Kaminaka C, Yonei N, Yamamoto Y, Furukawa F: Severe ulceration with impaired induction of growth factors and cytokines in keratinocytes after trichloroacetic acid application on TRPV1-deficient mice. Eur J Dermatol 22: 614-621, 2012
Shibata M, Nagai K, Doi T, Tawada H, Taniguchi S: Blood color is influenced by inflammation and independently predicts survival in hemodialysis patients: quantitative evaluation of blood color. Artif Organs 36: 992-998, 2012
Kuwahara J, Li HJ, Kanazawa N, Furukawa F: Attempts to induce auricular hematoma in a mouse model of collagen-induced arthritis. Aesthet Dermatol 22: 118-123, 2012
Yoshimasu T, Ikeda T, Uede K, Kanazawa N, Furukawa F: Effects of sarpogrelate hydrochloride on skin ulcers and quality of life in patients with systemic sclerosis. J Dermatol 39: 536-540, 2012
Ikeda T, Furukawa F: Case of atypical bullous pemphigoid with generalized pruritus and eczema as the prodrome for 10 years. J Dermatol 39: 720-721, 2012
Ikeda T, Kanazawa N, Furukawa F: Hydroxychloroquine administration for Japanese lupus erythematosus in Wakayama: A pilot study. J Dermatol 39: 531-535, 2012
Yamamoto Y, Funasaka Y, Matsunaga K, Akita H, Ueda S, Usuki A, Kono T, Tanaka T, Hayashi N, Moroi Y, Yonei N, Furukawa F: Committee for Guidelines of Care for Chemical Peeling: Guidelines for chemical peeling in Japan (3rd edition). J Dermatol 39: 321-325, 2012
Kimura A, Kanazawa N, Li HJ, Yonei N, Yamamoto Y, Furukawa F: Influence of chemical peeling on skin stress response system. Exp Dermatol Suppl 1: 8-10, 2012
Tchernev G, Ananiev J, Cardoso JC, Wollina U, Verma SB, Patterson JW, Dourmishev LA, Tronnier M, Okamoto H, Mizuno K, Kanazawa N, Gulubova M, Manolova I, Salaro C: Sarcoidosis and molecular mimicry-important etiopathogenetic aspects: current state and future directions. Wien Klin Wochenschr 124: 227-238, 2012
Kanazawa N: Nakajo-Nishimura syndrome: an autoinflammatory disorder showing pernio-like rashes and progressive partial lipodystrophy. Allergol Int 61: 197-206, 2012
Kanazawa N: Rare hereditary autoinflammatory disorders: Towards an understanding of critical in vitro inflammatory pathways. J Dermatol Sci 66; 183-189, 2012
Furukawa F: A mini-symposium of 2nd Japanese Society for Investigative Dermatology-Asia-Oceania-Forum. J Dermatol Sci 66: 175, 2012
Shibata M, Nagai K, Usami K, Tawada H, Taniguchi S: The quantitative evaluation of online haemodiafiltration effect on skin hyperpigmentation. Nephrol Dial Transplant 26: 988-992, 2011
Miyachi Y, Hayashi N, Furukawa F, Akamatsu H, Matsunaga K, Watanabe S, Kawashima M: Acne management in Japan: study of patient adherence. Dermatology 223: 174-181, 2011
Arima K, Kinoshita A, Mishima H, Kanazawa N, Kaneko T, Mizushima T, Ichinose K, Nakamura H, Tsujino A, Kawakami A, Matsunaka M, Kasagi S, Kawano S, Kumagai S, Ohmura K, Mimori T, Hirano M, Ueno S, Tanaka K, Tanaka M, Toyoshima I, Sugino H, Yamakawa A, Tanaka K, Niikawa N, Furukawa F, Murata S, Eguchi K, Ida H, Yoshiura K: Proteasome assembly defect due to a proteasome subunit beta type 8 (PSMB8) mutation causes the autoinflammatory disorder, Nakajo-Nishimura syndrome. Proc Natl Acad Sci USA 108:14914-14919, 2011
Tanaka A, Jensen JD, Prado R, Riemann H, Shellman YG, Norris DA, Chin L, Yee C, Fujita M: Whole recombinant yeast vaccine induces antitumor immunity and improves survival in a genetically engineered mouse model of melanoma. Gene Ther 18: 827-34, 2011
Yamamoto Y, Kaminaka C, Yoei N, Furukawa F:Preliminary trial of phenol peels for superficial basal cell carcinoma. Aesthet Dermatol 21: 28-31, 2011
Azukizawa H, Döhler A, Kanazawa N, Nayak A, Lipp M, Malissen B, Autenrieth I, Katayama I, Riemann M, Weih F, Berberich-Siebelt F, Lutz MB: Steady state migratory RelB+ langerin+ dermal dendritic cells mediate peripheral induction of antigen-specific CD4+ CD25+ Foxp3+ regulatory T cells. Eur J Immunol 41: 1420-1434, 2011
Yoshimasu T, Kanazawa N. Kambe N, Nakamura M, Furukawa F: Identification of 736T>A mutation of lipase H in Japanese siblings with autosomal recessive woolly hair. J Dermatol 38: 900-904, 2011
Kimura A, Kanazawa N, Li HJ, Yonei N, Yamamoto Y, Furukawa F: Influence of trichloroacetic acid peeling on the skin stress response system. J Dermatol 38: 740-747, 2011
Yamamoto Y, Toyozawa S, Uede K, Oda Y, Nakamura Y, Furukawa F: Clinical and pathological changes in a long-term follow-up case of dermatofibrosarcoma protuberans. J Dermatol 38: 203-205, 2011
Furukawa F, Kanazawa N: Autoimmunity versus autoinflammation. From the 2nd JSID-Asia-Oceania-Forum, Wakayama, Japan, 5th December, 2010. J Dermatol Sci 63: 132-137, 2011
Furukawa F, Kaminaka C, Ikeda T, Kanazawa N, Yamamoto Y, Ohta C, Nishide T, Tsujioka K, Hattori M, Uede K, Hata M; Wakayama Study Group on Dermatological Use of Bisphosphonates: Preliminary study of etidronate for prevention of corticosteroid-induced osteoporosis caused by oral glucocorticoid therapy. Clin Exp Dermatol 36; 165-168, 2011
Kanazawa N: Sarcoidosis and autoinflammation. Inflam Regen 31: 66-71, 2011
Kaminaka C, Kanazawa N, Furukawa F, Hashimoto T: Case of anti-laminin-g1 pemphigoid associated with psoriatic erythroderma. J Dermatol 37: 272-275, 2010
Okamoto M, Liu W, Luo Y, Tanaka A, Cai X, Norris DA, Dinarello CA, Fujita M: Constitutively active inflammasome in human melanoma cells mediating autoinflammation via caspase-1 processing and secretion of interleukin-1b. J Biol Chem 285: 6477-6488, 2010
Toyozawa S, Yamamoto Y, Kaminaka C, Kishioka A, Yonei N, Furukawa F:Successful treatment with trichloroacetic acid peeling for inflammatory linear verrucous epidermal nevus. J Dermatol 37: 384-386, 2010
Toyozawa S, Yamamoto Y, Ishida Y, Kondo T, Nakamura Y, Furukawa F: Immunohistochemical analysis of CXCR4 expression in fibrohistiocytic tumors. Acta Histochem Cytochem 43: 45-50, 2010
Kuwahara J: Prednisolone therapy for auricular hematomas in dogs and cats: effects and cosmetic outcome on the basis of intrinsic etiology. Aesthet Dermatol 20: 270-279, 2010
Kunimoto K, Uede K, Furukawa F: Progressive nodular histiocytosis. J Dermatol 37: 1071-1073, 2010
Furukawa F, Muto M: Ethnic differences in immunogenetic features and photosensitivity of cutaneous lupus erythematosus. Arch Dermatol Res 301: 111-115, 2009 
Furukawa F, Matsuura E: New impacts of cutaneous lupus erythematosus for global standard concepts. Preface. Autoimmun Rev 8: 439-440, 2009   
Furukawa F, Yoshimasu T, Yamamoto Y, Kanazawa N, Tachibana T: Mast cells and histamine metabolism in skin lesions from MRL/MP-lpr/lpr mice. Autoimmun Rev 8: 495-499, 2009   
Nakamura T, Kanazawa N, Ikeda T, Yamamoto Y, Nakabayashi K, Ozaki S, Furukawa F: Cutaneous polyarteritis nodosa: revisiting its definition and diagnostic criteria. Arch Dermatol Res 301: 117-121, 2009   
Ohe M, Inui M, Kishioka A, Yonei N, Yamamoto Y, Furukawa F: Evaluation of effects of hydroquinone on pigmentation by spectroscopy image analysis. Int J Cosmetic Sci 31: 70, 2009
Okafuji I, Nishikomori R, Kanazawa N, Kambe N, Fujisawa A, Yamazaki S, Saito M, Yoshioka T, Kawai T, Sakai H, Tanizaki H, Heike T, Miyachi Y, Nakahata T: Role of the NOD2 genotype in the clinical phenotype of Blau syndrome and early-onset sarcoidosis. Arthritis Rheum 60: 242-250, 2009
Li HJ, Kanazawa N, Nakatani Y, Furukawa F, Ozaki M, Kosaka M, Ishii N: No involvement of the NOD1 polymorphism Glu266Lys in Japanese leprosy patients. J Dermatol Sci 56: 72-73, 2009 
Mikita N, Kanazawa N, Ozaki M, Kosaka M, Ishii N, Nishimura H, Furukawa F: No involvement of non-synonymous TLR2 polymorphisms in Japanese leprosy patients. J Dermatol Sci 54: 48-49, 2009 
Kaminaka C, Yamamoto Y, Yonei N, Furukawa F: Phenol application to angiosarcomas: implications and histologic studies. Int J Dermatol 48: 470-475, 2009 
Kaminaka C, Yamamoto Y, Yonei N, Kishioka A, Kondo T, Furukawa F: Phenol peels as a novel therapeutic approach for actinic keratosis and Bowen disease: prospective pilot trial with assessment of clinical, histologic, and immunohistochemical correlations. J Am Acad Dermatol 60: 615-625, 2009
Amagai M, Ikeda S, Shimizu H, Iizuka H, Hanada K, Aiba S, Kaneko F, Izaki S, Tamaki K, Ikezawa Z, Takigawa M, Seishima M, Tanaka T, Miyachi Y, Katayama I, Horiguchi Y, Miyagawa S, Furukawa F, Iwatsuki K, Hide M, Tokura Y, Furue M, Hashimoto T, Ihn H, Fujiwara S, Nishikawa T, Ogawa H, Kitajima Y, Hashimoto K; Pemphigus Study Group. A randomized double-blind trial of intravenous immunoglobulin for pemphigus. J Am Acad Dermatol 60: 595-603, 2009
Arakawa A, Kanazawa N, Tanaka S, Yonezawa M, Miyachi Y, Mochizuki T: Genotyping of Trichophyton tonsurans isolate from a Japanese boy reveals infection in the USA. Clin Exp Dermatol 34: 630-632, 2009  
Mikita N, Kanazawa N, Yoshimasu T, Ikeda T, Li HJ, Yamamoto Y, Furukawa F: The protective effects of ultraviolet A1 irradiation on spontaneous lupus erythematosus-like skin lesions in MRL/lpr mice. Clin Dev Immunol 2009: 673952, 2009
Nishiyama M, Kanazawa N, Hiroi A, Furukawa F: Lupus erythematosus tumidus in Japan: a case report and a review of the literature. Mod Rheumatol 19: 567-572, 2009
Saeki N, Furue M, Furukawa F, Hide M, Ohtsuki M, Katayama I, Sasaki R, Suto H, Takehara K; Committee for Guidelines for the Management of Atopic Dermatitis of Japanese Dermatological Association: Guidelines for management of atopic dermatitis. J Dermatol 36: 563-577, 2009
Toyozawa S, Yamamoto Y, Kishioka A, Yonei N, Kanazawa N, Matsumoto Y, Kuroyanagi Y, Furukawa F: Effective treatment of intractable skin ulcers using allogeneic cultured dermal substitutes in patients with systemic lupus erythematosus. Eur J Dermatol 19: 594-596, 2009
Nosaka M, Ishida Y, Tanaka A, Hayashi T, Miyashita T, Kaminaka C, Eisenmenger W, Furukawa F, Kimura A: Aberrant expression of histo-blood group A type 3 antigens in vascular endothelial cells in inflammatory sites. J Histochem Cytochem 56: 223-231, 2008
Executive Committee of Guideline for the Diagnosis and Treatment of Scabies (Ishii N, Asahina A, Amagai M, Iijima M, Ishikawa O, Imamura H, Ooe M, Ohtaki N, Kato Y, Kanazawa N, Kamide R, Kanzaki T, Konohana A, Komoda M, Sugiyama N, Sekine M, Takezaki S, Tanaka M, Tamura N, Nagaoka Y, Nanko H, Hayashi M, Makigami K, Matsuda T, Yoshizumi J, Wada Y): Guideline for the diagnosis and treatment of scabies in Japan (second edition). J Dermatol 35: 378-393, 2008
Yoshimasu T, Kanazawa N, Mikita N, Furukawa F: The expression of histamine receptors in skin lesions of MRL/MP-lpr/lpr mice. Open Dermatol J 2: 83-86, 2008
Hayashi N, Suh DH, Akamatsu H, Kawashima M; Acne Study Group (Ito M, Otsuki M, Kawashima M, Hayashi N, Tsuboi R, Nakagawa H, Watanabe S, Matsunaga K, Akamatsu H, Miyachi Y, Furukawa F, Iwatsuki K, Kubota Y, Tokura Y, Furue M): Evaluation of the newly established acne severity classification among Japanese and Korean dermatologists. J Dermatol 35: 261-263, 2008
Hayashi N, Akamatsu H, Kawashima M; Acne Study Group (Ito M, Otsuki M, Kawashima M, Hayashi N, Tsuboi R, Nakagawa H, Watanabe S, Matsunaga K, Akamatsu H, Miyachi Y, Furukawa F, Iwatsuki K, Kubota Y, Tokura Y, Furue M): Establishment of grading criteria for acne severity. J Dermatol 35: 255-260, 2008
Furukawa F, Kanehara S, Harano F, Shinohara S, Kamimura J, Kawabata S, Igarashi S, Kawamura M, Yamamoto Y, Miyachi Y: Effects of adenosine 5'-monophosphate on epidermal turnover, Arch Dermatol Res 300: 485-493, 2008
Tanaka A, Kimura A, Yamamoto Y, Uede K, Furukawa F: Expression of histo-blood group A type 1, 2 and 3 antigens in normal skin and extramammary Paget's disease. Acta Histochem Cytochem 41: 165-171, 2008
Toyozawa S, Yamamoto Y, Nishide T, Kishioka A, Kanazawa N, Matsumoto Y, Kuroyanagi Y, Furukawa F: A case of pyoderma gangrenosum with intractable leg ulcers treated by allogeneic cultured dermal substitutes. Dermatol Online J 14: 17, 2008
Kanazawa N: Dendritic cell immunoreceptors: C-type lectin receptors for pattern-recognition and signaling on antigen-presenting cells. J Dermatol Sci 45: 77-86, 2007
Kanazawa N, Furukawa F: Autoinflammatory syndromes with a dermatological perspective. J Dermatol 34: 601-618, 2007
Kishi T, Yamamoto Y, Furukawa F: Case of fasciitis panniculitis syndrome. J Dermatol 34: 92-94, 2007
Yamamoto Y, Uede K, Yonei N, Furukawa F: Expression patterns of proliferating cell nuclear antigen in trichloroacetic acid peeled skin. J Dermatol 34:95-98, 2007
Inoguchi N, Matsumura Y, Kanazawa N, Morita K, Tachibana T, Sakurai T, Utani A, Miyachi Y: Expression of prostate-specific antigen and androgen receptor in extramammary Paget's disease and carcinoma. Clin Exp Dermatol 32: 91-94, 2007
Fujisawa A, Kambe N, Saito M, Nishikomori R, Tanizaki H, Kanazawa N, Adachi S, Heike T, Sagara J, Suda T, Nakahata T, Miyachi Y: Disease-associated mutations in CIAS1 induce cathepsin B-dependent rapid cell death of human THP-1 monocytic cells. Blood 109: 2903-2911, 2007
Kanehara S, Ohtani T, Uede K, Furukawa F: Clinical effects of undershirts coated with borage oil on children with atopic dermatitis: a double-blind, placebo-controlled clinical trial. J Dermatol 34: 811-815, 2007
Kanehara S, Ohtani T, Uede K, Furukawa F: Undershirts coated with borage oil alleviate the symptoms of atopic dermatitis in children. Eur J Dermatol 17: 448-449, 2007
Furukawa K, Ohtani T, Furukawa F, Suzuki Y: Infectious mononucleosis-like syndrome induced by salazosulfapyridine in a patient with rheumatoid arthritis. Mod Rheumatol 17: 492-495, 2007
Yonei N, Kanazawa N, Ohtani T, Furukawa F, Yamamoto Y: Induction of PDGF-B in TCA-treated epidermal keratinocytes. Arch Dermatol Res 299: 433-440, 2007
Kaminaka C, Yamamoto Y, Furukawa F: Nevoid basal cell carcinoma syndrome successfully treated with trichloroacetic acid and phenol peeling. J Dermatol 34:841-843, 2007