Here is the main content.
Research Facilities
Radioisotope (RI) Laboratory
1. Objective
The purpose of the RI Laboratory is to promote RI safety management and education in safe handling for employees working with radiation for the advancement of medical research using radioisotopes.
2. History
The predecessor of the RI Laboratory, the Applied Medical Research Laboratory Radioisotope Room, was inaugurated in August 1971. The present Radioisotope Laboratory was established with the consolidation of Wakayama Medical University at the Kimiidera Campus in 1998.
3. Overview of the Facilities
The RI Laboratory is located on the fourth floor of the RI and Animal Experiment Building. Entry and exit of staff and RI quantity management is handled by computers, and the area under management is about 240 m2, making this a relatively spacious venue for experimentation. In addition to devices such as liquid scintillation counters, gamma counters, auto well counters, and the RI image analyzer BAS2500, the laboratory also has a microorganism culture chamber equipped with two safety cabinets that can be used for P2 recombination experiments using RIs, and a cell culture chamber equipped with two clean benches for cultured cell experiments.
The RI Laboratory with the latest equipments is the only joint use facility in the university that can be used for experiments with RIs, and contributes to the research activities and RI safety education of a huge number of medical researchers.
4. Details of Work
1) Radiation Safety Management
To promote the safe and effective use of RIs, management of radiation sources within the laboratory, management of exposure of employees working with radiation, and management of radiation in the working environment are carried out.
2) Education and Training
Employees working with radiation are provided with education and training in the legal requirements for safe handling of RIs, and efforts are made to improve knowledge and skills related to the use of radiation.
3) Joint Use
Laboratory facilities including the latest equipment required by medical researchers are in place for high level RI handling experiments, P2 level genetic recombination experiments, and the like, and the Laboratory is available for joint use by researchers in the university.
Central Research Equipment Center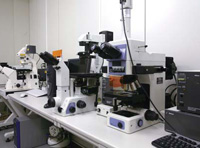 Central Research Equipment Center support researches in the molecular biology and cellular biology. The center houses a electron microscope preparation room, electron microscope room, biochemistry analysis room, ultracentrifuge room, and refrigeratory.
Laboratory Animal Center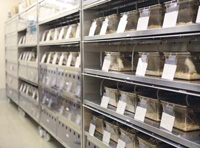 The Laboratory Animal Center was established as the "Joint Use Facility and Animal Room as a part of the Applied Medicial Research Laboratory in 1974. It was re-established as the "Laboratory Animal Center" during the move to the Kimiidera Campus in 1999.
The Center supports animal experiments carried out in the University. In addition to rearing laboratory animals, it has in place the environment required for more advanced animal experiments and supplies data and information relevant to animal experiments.
The Center has a total area of about 1980 m2. The rearing room is set at a temperature of 23±1°C, 50-60% humidity, with illumination from 8:00 to 20:00 (12L12D). Animals reared include mice (maximum storage capacity of 21,935 animals), rats (maximum storage capacity of 730 animals), hamsters, gerbils, guinea pigs, rabbits (maximum storage capacity of 114 animals), dogs, monkeys (maximum storage capacity of eight animals), and chickens.
The Center is equipped with a rearing room with an air conditioning system that uses a one-way airstream method to prevent generation of smells and allergens from the animals and create a pleasant environment for researchers, a microbarrier system for rearing many genetically recombinant animals in a clean environment, an environmentally controlled rearing room with optionally programed temperature, humid, and lighting, and an experimental rearing room for experiments such as stress tests that require irritation of the animals to be prevented as far as possible. In addition, the Center is also involved in the creation of new genetically recombinant animals using gene editing technology and stock preservation of mutant strains.
At present, the Center is involved in a wide variety of basic research and applied research, including analysis of stress response in various organs, research into wound healing, research into pain mechanisms, analysis of obesity-related hormone induced genes, basic research into cancer immunotherapy, analysis of genes involved in organogenesis, and analysis of the roles of chemokines and cytokines in various diseases.
| | | | |
| --- | --- | --- | --- |
| Center Director | Yoshito Ihara | Professor | Also Professor in the Department of Biochemistry |
| Full-Time Teacher | Masayasu Miyajima | Lecturer | |