Here is the main content.
Facilities
Library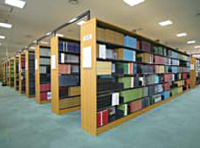 The Library in Kimiidera campus is located on the first and second floors of the library building, which is a modern glass curtain-wall style that represents the school.  The library works on information technology and acts as a base of information.
The latest medical information is provided through electronic journals so that the visitors will be satisfied.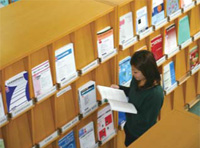 The library in Mikazura campus possesses materials mainly on health and nursing science and serves as a social information center in the local area. It provides information resources and services to support the educational and research activities.
Lifelong Learning Center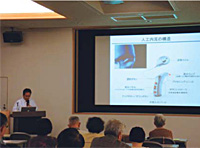 Lifelong Learning Center was founded to contribute to lifelong learning of medical advisors who are engaged in local health care and to improve health, medicine, and welfare by making good use of high medicare's ability, educational courses, and high information technology of Wakayama Medical University.
Today, conference about the latest medical treatment has been held periodically in response to the desire of many people in Wakayama prefecture.
Clinical Skills Training Center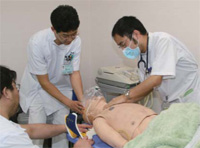 Clinical Skills Training Center was opened in 2006. It was relocated to the second floor of the Advanced Medical Care Staff Development Center in 2010. The center promotes educational programs using simulators and manages equipment and instruments.
Taking this relocation as a good opportunity, this center has become one of the most famous centers in Japan both in size and reality.
The training center is utilized by the students, trainees, medical professionals, nurses, clinical laboratory technologists, and radiation technologists as well as medical staff from outside of the university in Wakayama prefecture.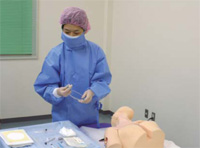 The number of center users has been increasing, which is about 8,500 people a year. The training center is used for cardiopulmonary resuscitation training (BLS, ACLS) for medical staff, office staff and students, student laboratory exercises, blood sampling training for clinical laboratory technologists. High fidelity patient simulators and a simulated ward in the center are used for new employed nurses' training and team-based health care training for interprofessional education.
As a part of Medical Safety training, we make DVDs in which clinical skills using the same instruments and medicines as those used at our university hospital are explained.
Institute of Advanced Medicine
Molecular Medicine Research Department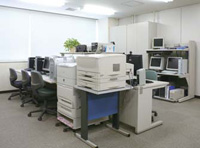 The Molecular Medicine Research department conducts research on molecular-level pathogenesis of diseases and their treatments, with emphasis on signal transduction system that plays an important role in various biological phenomena. The primary focus of the current study is to understand the mechanism of cellular signal transduction and the pathogenesis of the diseases caused by cellular signal transduction, and based on the understanding, establish regenerative medical treatment for central nervous system problems, especially neurodegenerative diseases.
Medical Informatics Research Department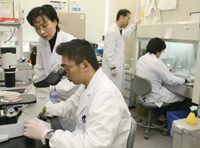 Medical informatics, hospital management, and medical information management are the main research targets of this department. This department is undertaking a wide range of research while being involved with the management of the medical information system at the University Hospital and the LAN systems on campus. The current research theme focuses on the following three areas: 1) Providing medical information over the Internet, 2) Management and evaluation of hospital information systems, and 3) Regional medical care coordination using medical informatics.